We are situated in the heart of the market floor, supplying fresh local produce to our customers, to the other stallholders and to the restaurant.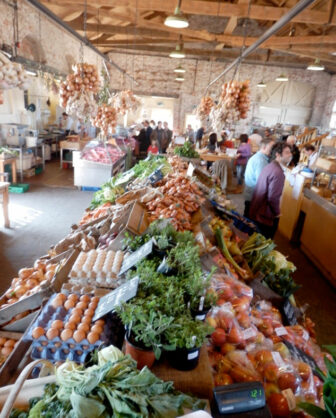 Everyday Tuesday – Saturday we get up bright and early to go and collect fresh fruit and veg from our farmers to bring to the stall for you. Buying directly from the growers, rather than from a wholesale company or importer means that we get the freshest produce, even picked the same morning, at the best prices.
Being situated in the heart of Kent, known Worldwide as 'the garden of England' we have no shortage of local produce available on our doorstep. It wouldn't seem right to ship produce halfway across the Earth with all this available.
[divider]
What are the benefits of buying locally?
Buying locally means that the food does not need to travel very far at all to reach you. This greatly reduces the cost of unnecessary transportation and emissions from cars, ships, and even planes. In doing so, we commit ourselves locally to keep green spaces for growing food. It also means the produce can be much fresher, as it has not had to sit in lorries and warehouses for days on end, before reaching the shelves. Fresher food means higher nutritional content when it gets to you. Why buy Asparagus out-of-season from Peru and other countries when it'll be cheaper and so abundant locally when in season?
Buying locally also means that your money is going into the local economy, supporting local farmers and independent businesses, rather than going to huge global corporations that often extract profits while contributing very little back in exchange. By doing so, we can know what happens to our money and ensure we are not supporting abusive business and political activities. This keeps us going year after year, and shows we are here because we are locally supported.
By knowing the distance your food travels from farm to your dinner table, we can be surer of the quality and state of our food. When food is transported halfway across the world and back, the risk for contamination along the way is significantly higher than collecting freshly picked produce daily from local farms.
It also means more variety for us. Farmers aren't restricted to growing things only because of their long shelf life or high yield. They can plant smaller crops of fruit and veg that you wouldn't find in the supermarket. These products are grown just for their delicious flavour. This also protects varieties of food from being lost from industrial farming methods.
Buying local food helps us to keep in touch with the seasons. Eating seasonally means eating what is available and at its best at the time. It helps keep traditional recipies and food culture alive, keeps us in touch with nature and greatly benefits our health. It helps us to reconnect with the organic cycle that nature intended. There is a reason why we have warming root vegetable stews in winter, and fresh crunchy salads and berries in the summer.
Choosing to eat like this you will straight away notice the difference in taste and quality. You will become excited when the first of the fresh spring asparagus is available, and when that comes to an end there is always more delicious food coming into season. In viewing food in this way, we are educated about the variety and origin of these plants, as well as the environment that they flourish in. I have heard children see our vegetables, some of which we receive covered in mud, and are in awe that these vegetables came from out the ground. It must be quite a contrast from the normal artificiality of supermarkets.
Eating seasonally is easier on the wallet too since foods in season are abundant and therefore cheaper! When we want things out of season that is when we can spend unnecessarily. We are often used to the access to foods all year around that supermarkets provide. Because of this, we are uneducated as to what is in abundance at any point in the year. Buying foods out of season out of habit is a big waste in so many ways that it serves those wishing to be economical with their food budgets to eat seasonally and locally!
Winter
The Veg Stall over Winter may at times seem quite bare but it'll only get better from here on into the new year! Carrots, kale, cauliflower, brussel sprout stalks, cabbages, leeks, potatoes, parnsips, and celeriac are available. Purple sprouted broccoli has also been available with more to come.
After Christmas, we also have Rhubarb to look forward to.
Spring
Lettuces, cauliflower, broccoli, asparagus, spring onions, swede, gooseberries, salads, green beans, courgettes, raspberries, and carrots will all be in season and available.
Summer
Strawberries, apricots, cherries, fennel, sweet corn, blackberries, plums, potatoes, cucumber, kohlrabi, tomatoes, watercress, turnips, rocket to name a few.
Autumn
Pears, peppers, turnips, pumpkins, squashes, leeks, parsnips, pears, quinces and beetroot all come in this season.

Richard Ovenden in Ash. Mr Ovenden and his brothers have been farming around here for years, so they know what they're doing. We go to him every morning for conventionally grown vegetables, including rhubarb, squash, bunched carrots and fennel.
Walmestone Growers in Walmestone (near Wingham) was first established by John Aspinall to grow food for the animals at Port Lymme and Howletts Zoo, but now we are lucky enough to be able to get great produce from them every day. It is managed by Steve Parsley, and they grow a large variety of fruit and veg under polytunnels including peppers, tomatoes, kohlrabies, herbs and salad leaves.
Left: shows various salad leaves grown under polytunnels

They do not use artificial pesticides or insecticides; instead they use more eco friendly methods such as releasing lacewing and ladybirds into the polytunnels to eat the pests. They also plant lettuce into peat blocks so they sit above ground, and once a year they sterilize the soil with steam to kill off any weeds without the use of chemicals. They also have bumblebee hives on site, which help to pollinate the plants.
Perry Court Farm, near Chartham, was one of the country's first organic farms.
Also, our friendly foragers add something special to our stall with goodies from the wild that you almost definitely won't see in the supermarket. Depending on the seasons, we have a variety of wild mushrooms as well as wild garlic, wild strawberries, sloes, rosehips, crab apples, bay leaves, wild fennel, elderberry and anything else we can get our hands on throughout the year.