Enjoy dining with us inside or outside
We welcome you to book a table inside our open, naturally-lit restaurant overlooking the market, or in our rambling garden – though please note, these bookings are not interchangeable in the event of poor weather and if you have booked outside, we may not be able to move you inside, which means your reservation will be cancelled. We will do our upmost, however, to accommodate you and look forward to welcoming you soon. 
Seasonal Food
 The compact, seasonal menu constantly changes, using the best local ingredients the market has to offer. Slow proved loaves are drawn from the ovens in the bakery throughout the day, whole carcasses of meat, broken into cuts on the butchery and dishes being prepared and cooked from the open kitchen, or outside on our grill.
Lunch is served from noon and is popular for three courses or for some, just a couple of starters. Supper is slightly more formal and served by candelight as the market is winding down for the day, or in the garden lit up with the glow of festoon lighting.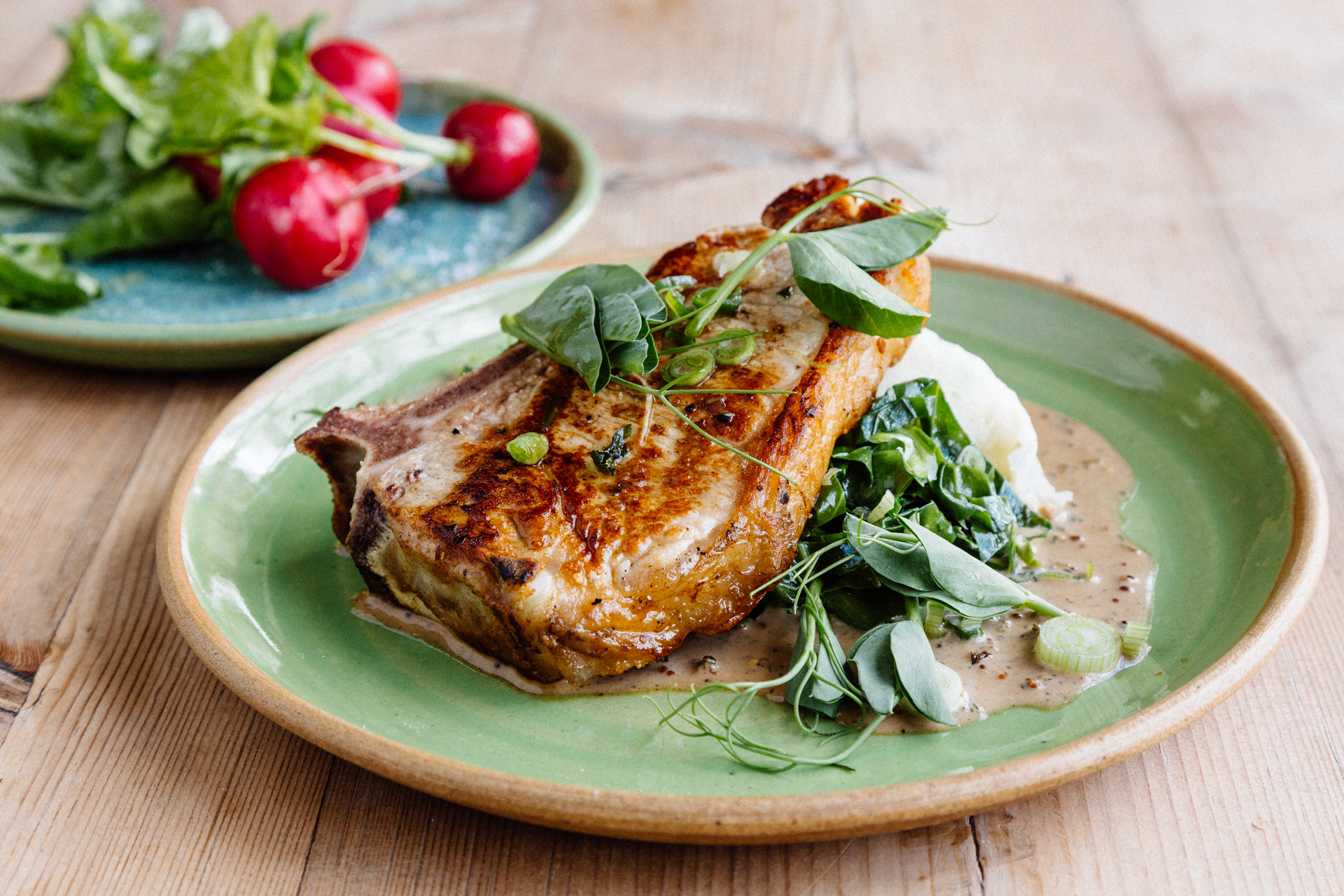 Ales & Ciders
The Small Beer Company Lager
350ml 2.1% – 4.20
Green Daemon Helles Golden Ale
500ml 5% – 4.95
Gadd's No 3. Premium Pale Ale
500ml 5% – 4.90
Hop Daemon Skrimshander IPA
500ml 4.9% – 4.95
Gadd's Dog Bolter Porter
500ml 5% – 4.90
Charringtons Private Bin Cider
330ml 5.5% – 5.20
Fizz
Oxney Organic Estate 2017
11% 125ml – 10.20 bottle – 52
Gusbourne Brut Reserve 2016 – Kent
bottle – 60
Sylvoz Prosecco DOC Treviso Le Colture Brut NV
11.5% 125ml – 6.5 bottle – 32
Marquis De Bonnieres NV Brut
12% bottle – 70
Bramble Kir or Kentish Kir Royale 7 or 12
Aperitifs & Spritzers
Gin & Tonic 6.95
Sherry & Tonic 7.5
Bergamot Spritz 8
Damson Spritz 7
Soft
Jug of Homemade Lemonade/ Ginger beer 11.50

Raspberry Tonic 3.5

Apple, Lime & Ginger 3.95

Pear, Mint & Lime 3.95

Fresh Pressed Orange Juice 3.95
White
Il Carretto IGT Bianco di Puglia 2020
12% Malvasia…this soft, lively white is thirst quenching and bursts with citrus fruit flavours…


175ml – 6, Jug – 18, Bottle – 26
</
Terre de Lumiere Viognier Celliers Jean d'Alibert IGP Pays d'Oc 2020
13%…Elegant, Southern French Viognier redolent of acacia blossom & white peaches… 

175ml – 7, Jug – 19, Bottle – 27
</
L'Aure Sauvignon Blanc IGP Cotes de Gascogne 2020
12%…bright & highly refreshing Sauvignon…
175ml – 8, Jug – 23, Bottle – 33
</
Picpoul de Pinet Domaine Morin Langaran 2021
12.5%…Delicate & refreshing, floral & perfectly balanced with hints of citrus & exotic fruits…
175ml – 8.5, Jug – 24, Bottle – 35
</
Vouvray, Les Fosses d'Hareng 2019
12.5%… this Chenin Blanc is round, rich with ripe fruit flavours and has a lifting acidity throughout…
175ml – 9, Jug – 25, Bottle – 37</
Heppington Chardonnay, Canterbury, Kent 2020
13%… hints of French Oak, hazelnut aromas, peachy orchard fruit…
175ml – 9.5, Jug – 26, Bottle – 38</
Belezos Rioja Blanco Oak Aged Bodegas Zugober 2019
13% Viura…stylish & full bodied, white blossom & concentrated fruit spiked with cinnamon…
Bottle – 40
Albarino Pazo la Maza Adegas Galegas DO Rias Baixas 2020
13%…a lively & refreshing Albariño with orchard fruit notes, made in its indigenous region…

Bottle – 40
Gruner Veltliner Strass Allram, 2020
12.5%…Orchard fruit purity & a steely minerality is underscored by a fresh pepperiness…
Bottle – 41
Bacchus, Chartham Vineyards, Kent 2019
13.5% Bacchus…Elderflower, hedgerow & white blossom from one of our favourite locals…
Bottle – 42
Macon-Solutre Maison Auvigue 2020
13% Chardonnay…creamy & round with ripe orchard fruit, balanced by an elegant freshness…
Bottle – 42
Cotes-du-Rhone Blanc Les Becs Fins Tardieu-Laurent 2019
13.5% Viognier Marsanne blend…A crisp, mineral & aromatic white from the southern Rhône…
Bottle – 46
Thanisch Estate Riesling Kabinett Weingut Dr H Thanisch 2017
10.5%…Off Dry Mosel Riesling with a clipped lemony precision & ripe ample apricot fruit…
Bottle – 48
The Roman Road Chardonnay, Simpsons, Kent 2020
13.5%…Buttery on the palate, fresh aromatics of ripe yellow fruit and light wood notes…
Bottle – 55
Rose
Source Gabriel Rosé AOC Cotes de Provence 2020
13.5% Grenache-blend…pale & delicate yet fruity with floral notes coupled with a rich stone fruit…
175ml – 10, Jug – 28, Bottle – 38
Chateau La Tour De L' Eveque, Cotes de Provence 2020
13.5% Clean, interlacing with charming, ripe aromas of peach, nectarine & sweet grapefruit…
Magnum 1.5L – 69
Red
Merlot Belvedere, Cecilia Beretta 2020

13% … ruby red with velvety tannins & a smooth, milk chocolate finish…

175ml – 6, Jug – 17, Bottle – 26

Il Barroccio IGT Rosso Terre Siciliane 2019
13%… Nero d'Avola…an opulent red, both spicy & juicy, with flavours of plums & ripe cherries…


175ml – 6.5, Jug – 18, Bottle 27

La Muse de Cabestany Pinot Noir IGP Pays d'Oc Celliers Jean d'Alibert 2020

12.5%…Silky smooth, an elegant Pinot displaying rose petal, liquorice & a long finish…

175ml – 7, Jug – 20, Bottle 30
Montepulciano d'Abruzzo Roccastella 2019
13%…a pure, expressive Montepulciano with ripe, dark fruit and a lasting savoury spice…
175ml – 8, Jug – 22, Bottle 33

La Curiosite Minervois 2019
13.5% Syrah-blend …a velvet smooth red with rich dark fruit & savoury umami flavours…
175ml – 8.5, Jug – 24, Bottle 35

Rioja Joven, Altos de Baroja 2018
14% Tempranillo-blend…rich plum, dark cherry fruit and warm spices, long lasting on the palate…
175ml – 9, Jug – 25, Bottle 36

Cotes du Rhone, Vignobles Gonnet 2019
14.5%…Grenache-blend… Ripe dark fruits, chocolate and dried herbs with a rustic yet elegant finish…
175ml – 9.5, Jug – 28, Bottle 38
Chateau Mayne-Graves, Bordeaux 2020

14%… Cabernet Sauvignon-Merlot blend …plump plum fruit, with nice leafy tannins & a firm structure…
Bottle – 38
Valpolicella Classico Superiore Terre di Cariano Cecilia Beretta 2017

13% Corvina-blend…juicy & intense with warm peppery spice & smoky cherry notes adding a slight sweetness…
Bottle – 39
Fleurie 'La Madonne' Domaine Lathuiliere-Gravallon 2020
13%… Gamay… Pure & fresh, this Fleurie shows juicy red Gamay fruit combined with a delicate structure…

Bottle – 44
Manoella, Wine & Soul, Douro 2018

13%… Beautifully layered Portuguese blend, berries & cherries with an earthy minerality, perfect for the season…
Bottle – 52
Psi Bodegas y Vinedos Alnardo Ribera del Duero 2018
14%…Tempranillo-blend… wonderful complexity and vibrant freshness from iconic winemaker Peter Sisseck…
Bottle – 66

Chateau Barrial du Blanc Grand Cru St-Emilion 2016
13%… Merlot & Cabernet Franc blend… firm & fresh with a supple structure & fine length …
Bottle – 68

Bourgogne Rouge, Cuvee Margot Olivier Leflaive 2018
13%… Fresh & fruit driven Pinot, with crunchy tannins and a spicy earthy undertone…
Bottle – 69
Pudding & Fortified Wines
Monbazillac, Dordogne, France 2016 375ml

12.5%…A golden honey of a sweet wine, notes of blossom and dried fruit from the banks of the Dordogne…
100ml – 6.5, Bottle – 19
Lustau Pedro Ximenez San Emilio, Spain

17%…A classic PX sweet sherry, dried fruits, figs, with a chocolate and coffee finish…
100ml – 7
Fonseca Vintage Port 2004

20.5%…Rich & velvety at a perfect drinking age…
100ml – 7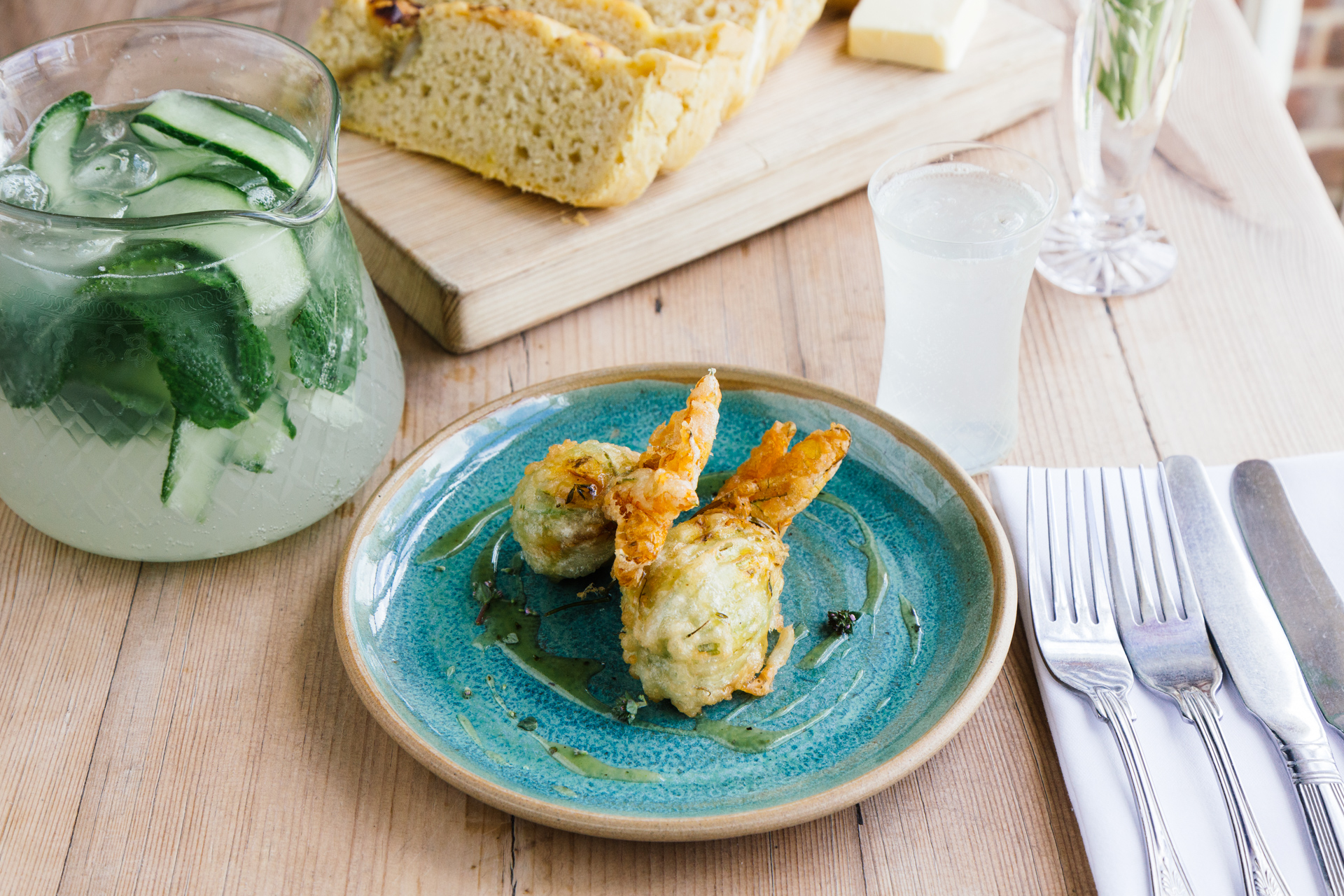 Breakfast
We are currently not offering breakfast, though the Wild Goose in the market serves a beautiful menu, or you can pick up an array of treats and coffee from across the market, including fresh doughnuts from Enzo's, sausage rolls from Jonnie and pastries from Hannah, custard tarts and more from Gill's Cafe and Delicatessen.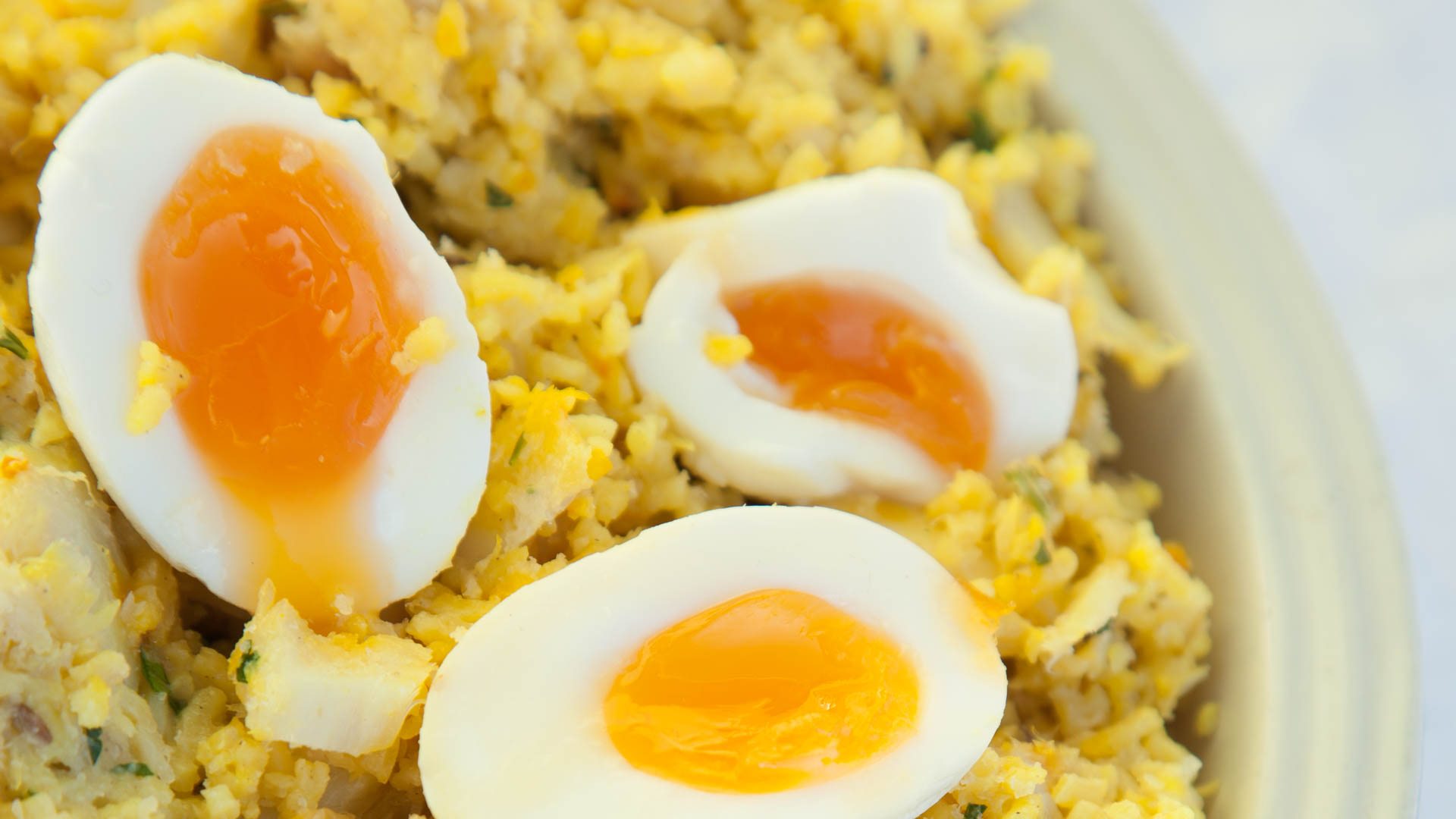 Banquets
For parties from 8 – 16, call us to discuss your requirements. Below is a sample menu.
Partridge, pheasant, rabbit terrine, juniper, brandy with celeriac and
russet slaw
Smoked eel, beetroot and creme fraiche with horseradish
Comice pear, stilton, walnut, rose hip syrup
Halibut, purple sprouting broccoli, smoked hollandaise
Goose and prunes
Sprouts and chestnuts
Pudding
Cheese
£45 per head
Feasts are perfect for larger tables, food rolls from the kitchen, no need to choose from the menu, let us feed you. There is plenty of food so if there is a dish not suitable for one then have more of another.
Please confirm number of vegetarian diners in advance and any diners with allergies. £10 deposit per guest is required to confirm booking.
01227 459 153