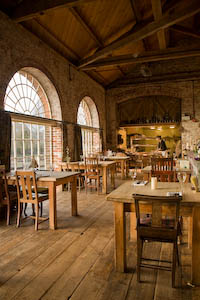 The Goods Shed restaurant sits on a raised platform overlooking the market. The compact, seasonal menu changes twice a day, using the best local ingredients the market has to offer. Slow proved loaves are drawn from the ovens in the bakery throughout the day, whole carcasses of meat broken into cuts on the butchery and dishes being prepared and cooked from the open kitchen. Lunch is served from noon and is popular for three courses or for some, just a couple of starters. Supper is slightly more formal and served from 6pm as the market is winding down for the day. Call the restaurant for our latest menu.
Observer Review
The Goods Shed is pure gastro-porn. It's a place where incorrigible foodies, people who can comfortably fetishise the origins of a chicken (people like me), can go to get their jollies. It doesn't get much more hardcore than this: it's a lovely old railway building right by the station, complete with rough-hewn wood and craggy red brickwork. One side is taken over by a market selling mostly local, often organic produce. On the other side, up on a raised gallery, is a restaurant serving dishes made only from ingredients from the market. If the market hasn't got it, they won't cook it. For the belly-obsessed, this is the equivalent of Amsterdam's red-light district or the Reeperbahn in Hamburg. Jay Rayner | Observer | Sunday February 27, 2005 Read the full article on the Observer website.
Mike Gerrard, Online Travel Writer of the Year Review
'Does your menu change every day?' I asked the waiter at The Goods Shed, which we'd been told was one of the best restaurants in Canterbury. 'More often than that,' he told us, 'as we have a different lunch menu every day and a different dinner menu. The chefs source most of the food from the Farmers Market, so vary their menus depending on what's available.' To get to the market the chefs wouldn't even have to go out in the torrential rain that was currently pouring down outside, as The Goods Shed is in the same building as Canterbury's small but very impressive Farmers Market. The tables are on a raised wooden platform that overlooks the market. At lunchtime it must be really buzzing, but in the evening the market is quieter – though several stalls are still open – and the Goods Shed has a more relaxed and rustically romantic atmosphere.
Mike Gerrard | Beyond London Travel
Read the full article here.